Happy Education Support Professionals Appreciation Week!!! Mrs. Hussey's first graders are looking mighty proud of the art they did to celebrate our Parkside ESP crew!!! Thank you to each and every one of our Education Support Professionals at Parkside and throughout our district! YOU ARE APPRECIATED!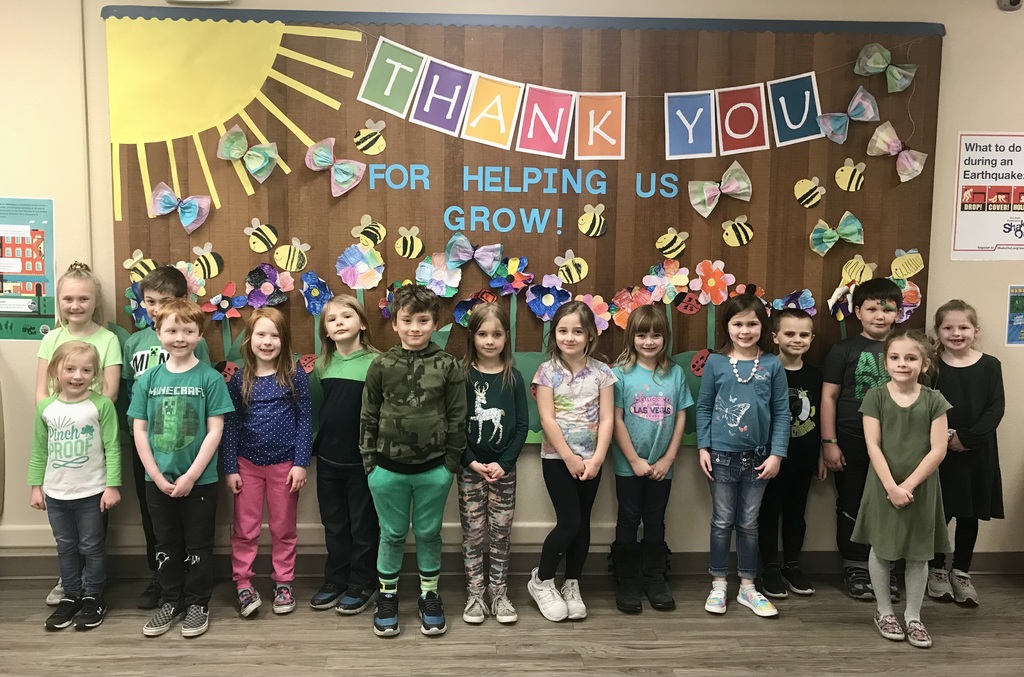 Our thoughts and condolences to Sally's family and all who loved her. Sally Phillips peacefully passed on February 13, 2022, at home. Sally worked for Tenino Middle School from 2003-2019 and would don her yellow gloves, hammer, naivete and desire to nurture children's love and need for reading. Sally also worked for Pierce County Library System; she was the social page editor for many years for the Idaho Falls Post Register newspaper. Sally earned her Bachelor of Arts degree in English Literature at Southern Oregon University and is a member of the prestigious Phi Kappa Phi honors Society. Sally is survived by her husband of 22 years, Keith Phillips of Tenino, her 4 children, Tom Bailey of Idaho Falls, Vickey Gray of Idaho Falls, Ken Bailey of Mission Viejo, California, and Molly Anderson of Wickenburg Arizona. A sister, lngamoe Miller of Frenchglen Oregon, a nephew, 2 nieces and numerous grandchildren. Sally is the granddaughter of H.P. Scheel, a former prominent owner of the Hercules Sandstone quarry in Tenino.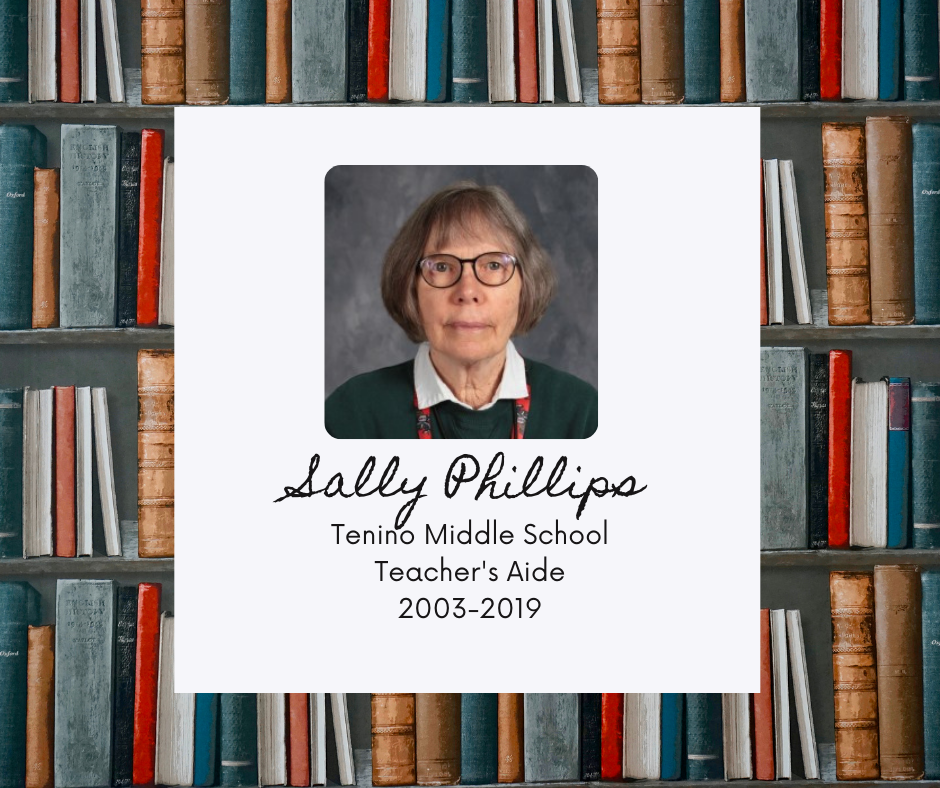 Last night at our monthly school board meeting, Cory with Friends of Tenino parks joined us as our community partner for the month of February. This is such a great group of people committed to orchestrating ways and means to enhance and maintain consistent, quality, and enduring park habitat for current and future generations. Friends of Tenino parks puts on an Earth Day celebration each year. This year it will be held on April 23, 2022 in the Tenino City Park. During the event participants will be asked to aid volunteers from the Friends of Tenino Parks in various "park cleanup" activities to be determined prior to the event. The school within the Tenino School District with the most registered participants (attendance to the event is mandatory) will receive a cash prize that will be awarded to the School's ASB or comparable program. The event can also be used to complete Community Service Hours. Register here:
https://www.friendsoftenino.org/

Good Luck to the THS Girls Basketball team in their Regional play-in game tonight!! Tip-off is at 6pm at WF West! ONLINE TICKET SALES ONLY, link below:
https://gofan.co/app/events/553527?schoolId=WIAA
Game is also being streamed on the NFHS site as well . . Good Luck Ladies!!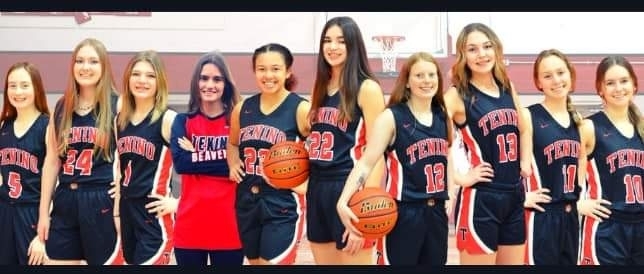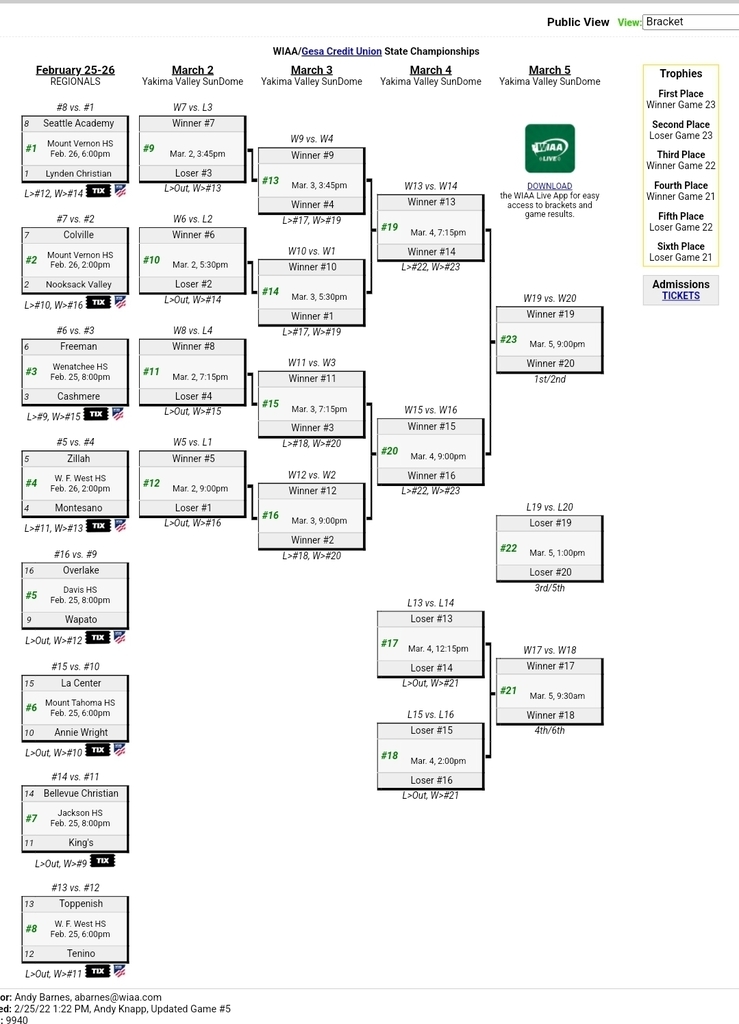 Tuesday was National School Bus Driver Appreciation day! Thank you to all of our bus drivers at First Student-Tenino that transport our kiddos safely each day! We appreciate all that you do!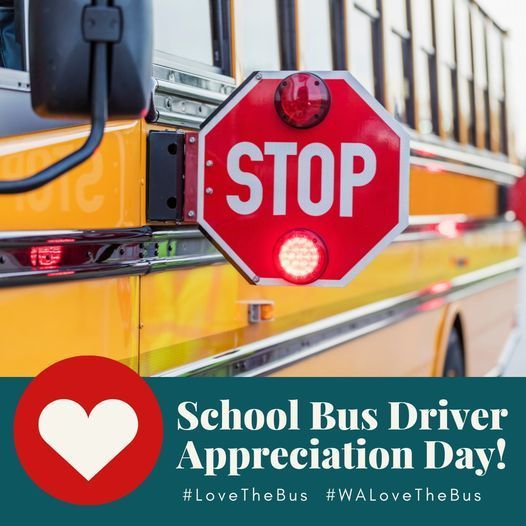 Happy Counselors Week to our wonderful counselors Mrs. Hopkins and Mrs. Dauer! We appreciate your hard work and dedication to our students and community!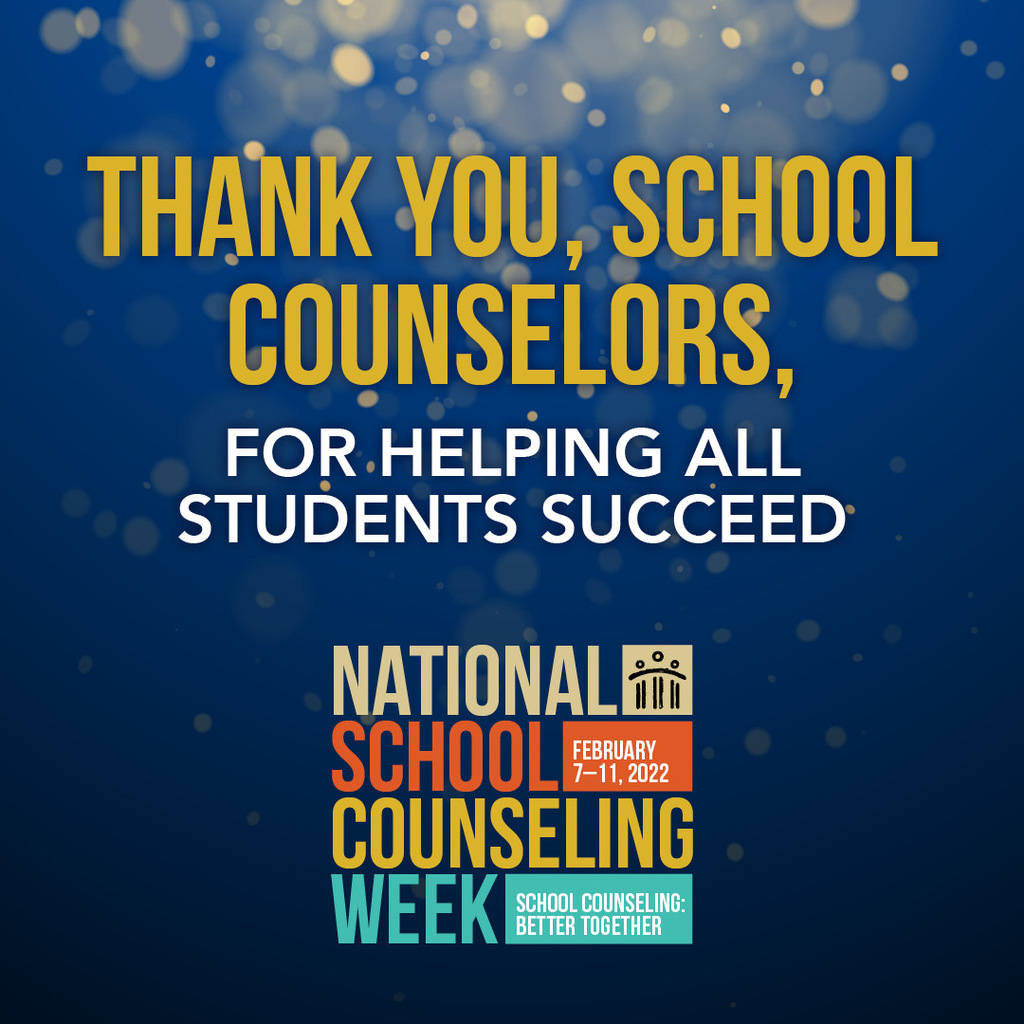 Here's another local sports opportunity for girls age 8-10!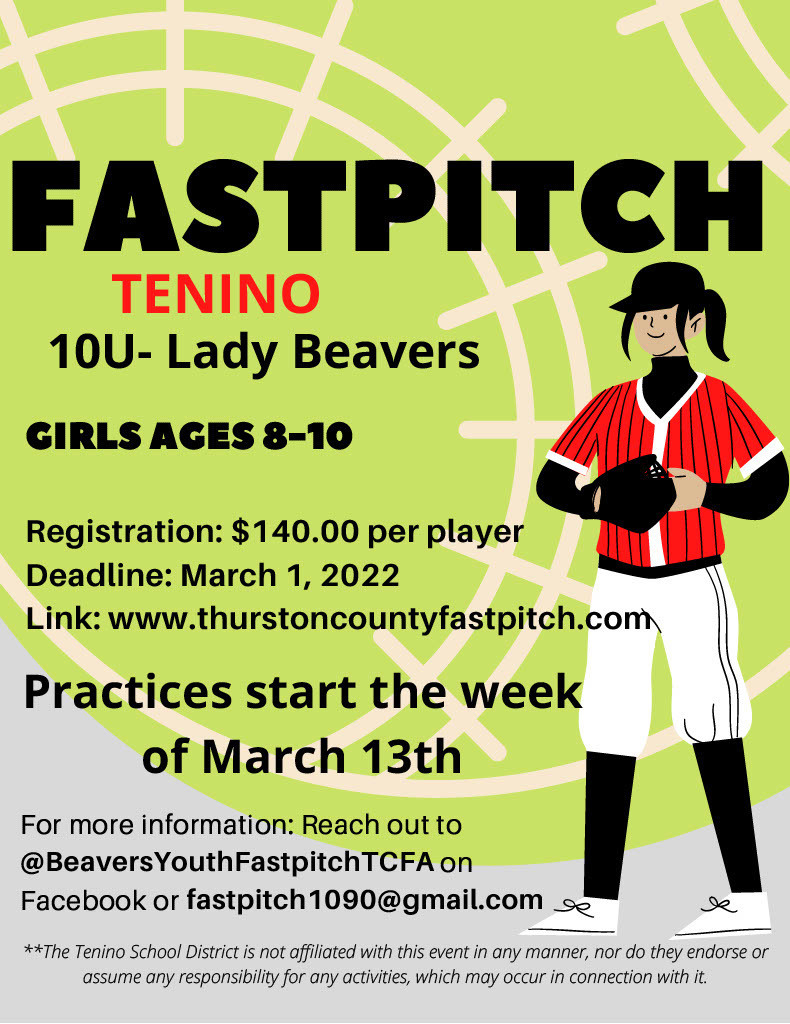 Congrats to the Girls Basketball Team for advancing to Districts as the #2 Seed. As a top seed, they get to host the 1st RD game vs Seton Catholic, this Friday (2/11) at 6pm!! This event will have ZERO FAN LIMITATIONS, so mask up, and let's pack the gym!! Go Beavs!!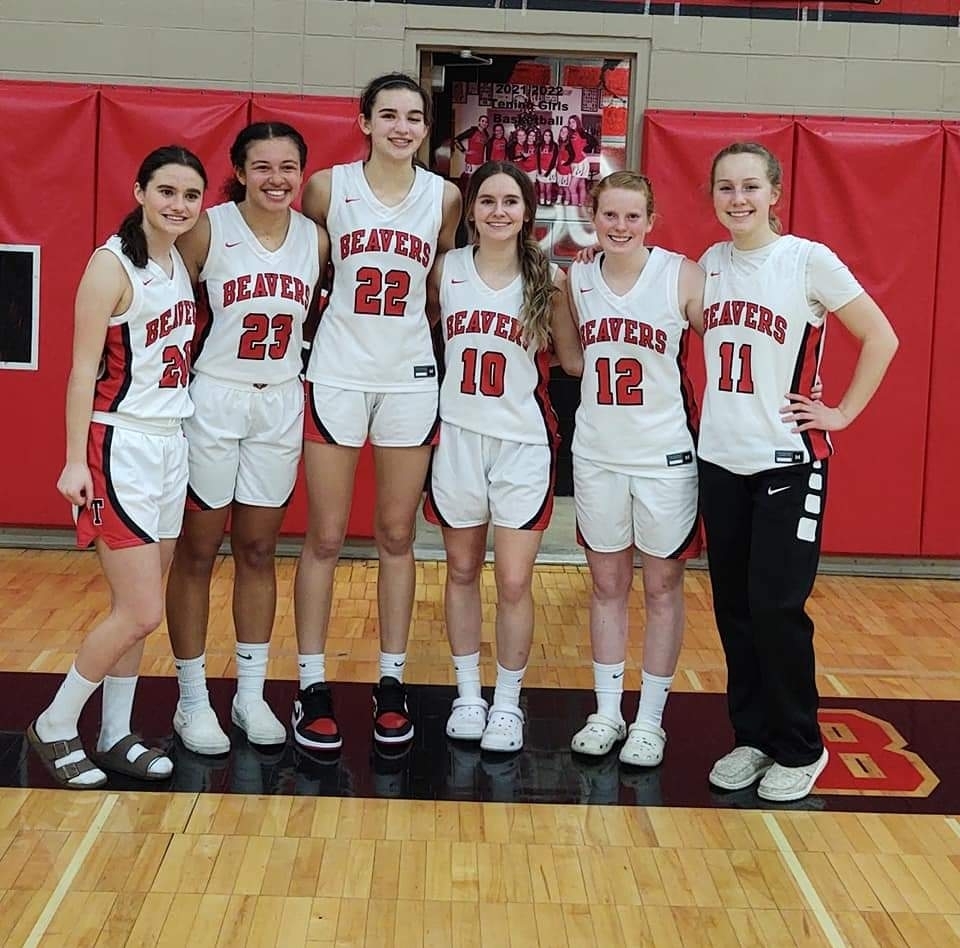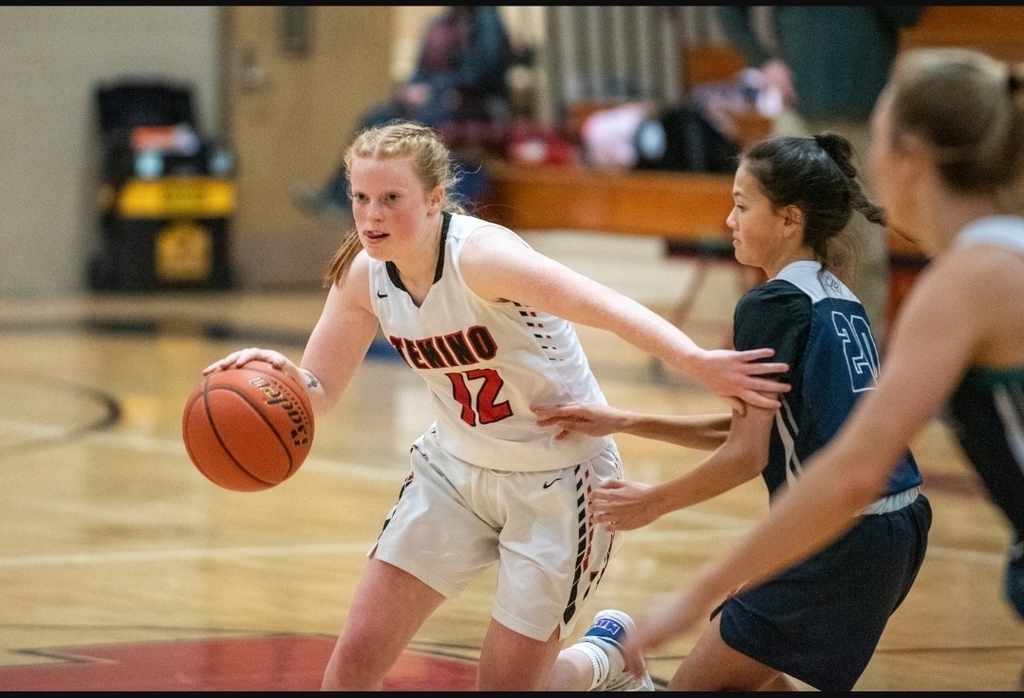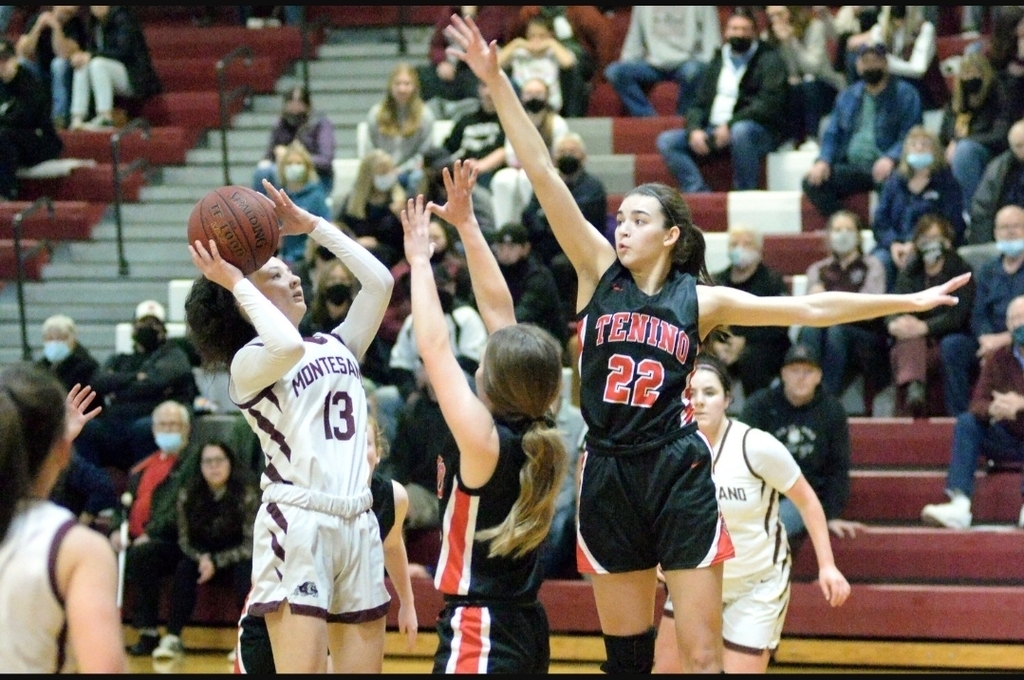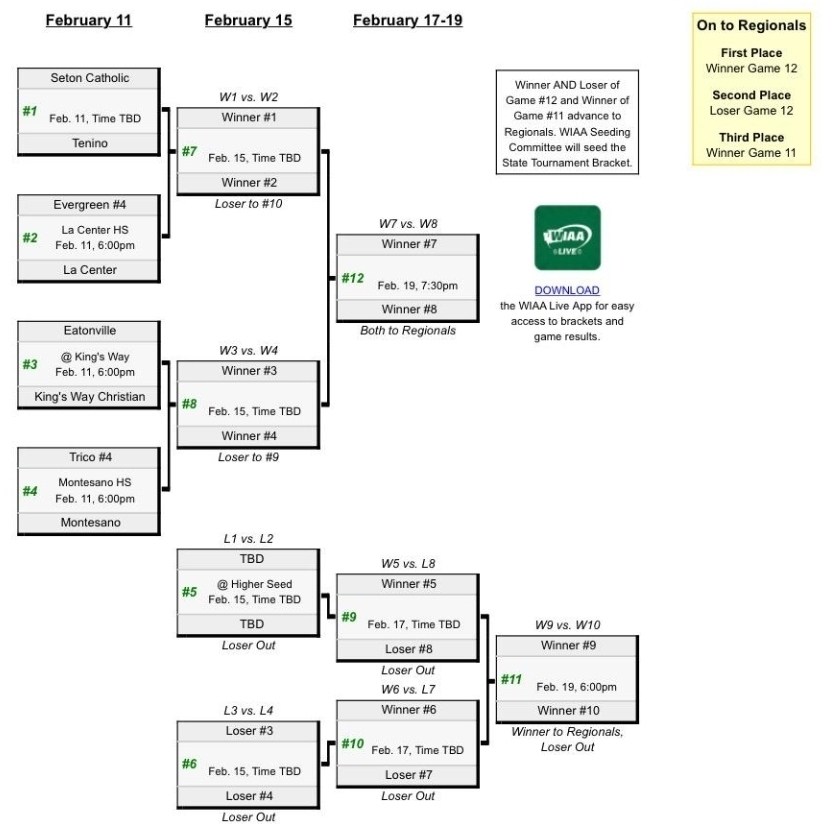 Congrats to the Boys Basketball Team for advancing to Districts as the Evergreen #4 Seed!! The boys will travel tomorrow, 2/10, to King's Way Christian HS for the 1st RD matchup at 7pm!! Win or lose, they will travel to play on Saturday, opponent & location TBD. Go Beavs!!!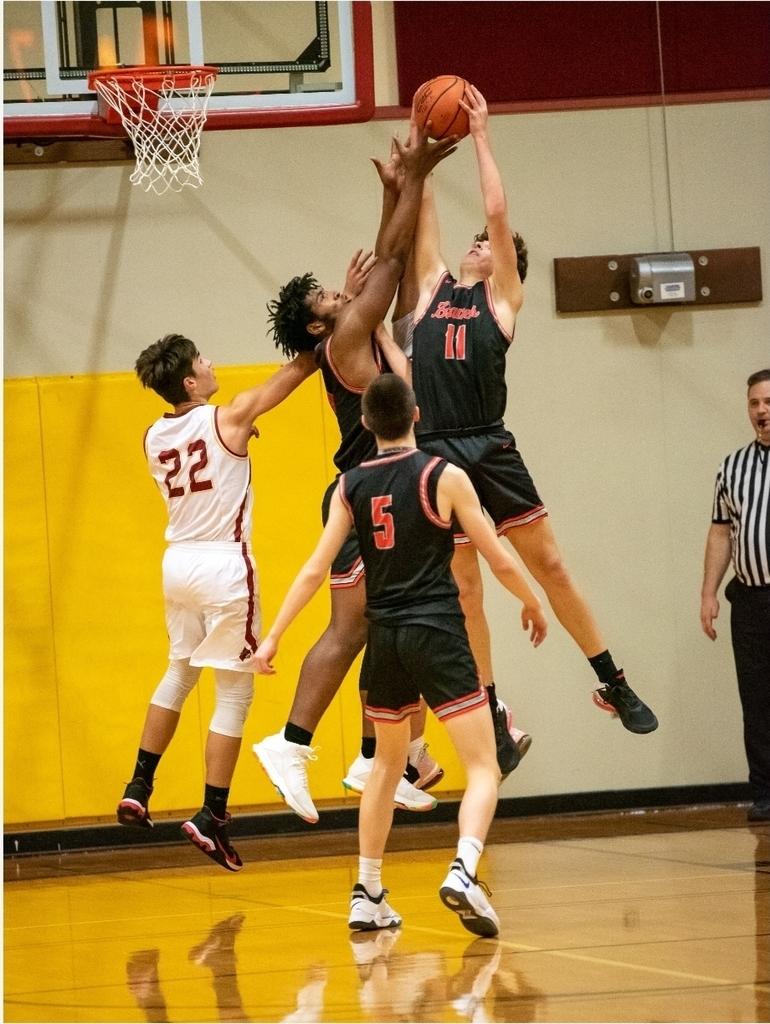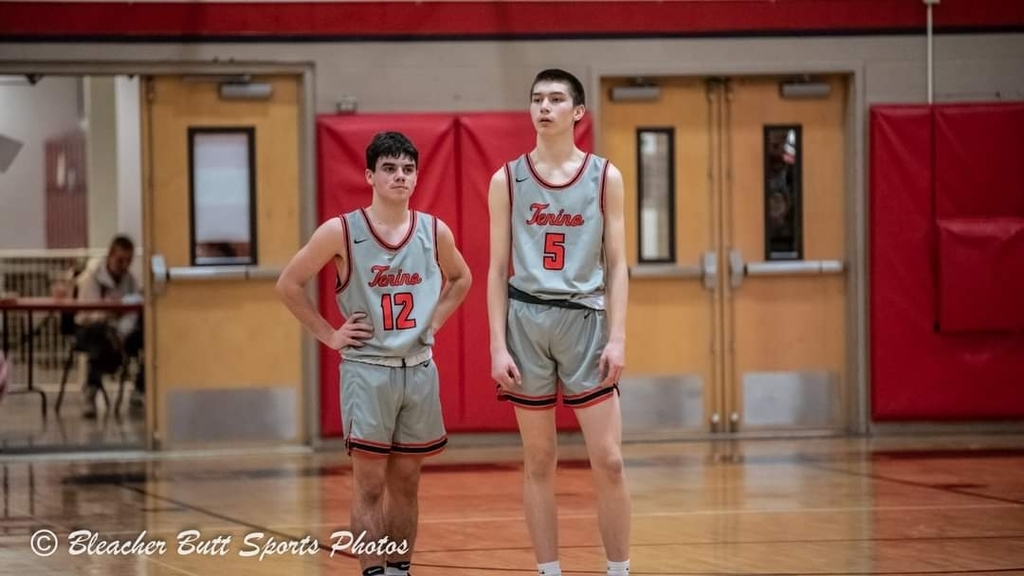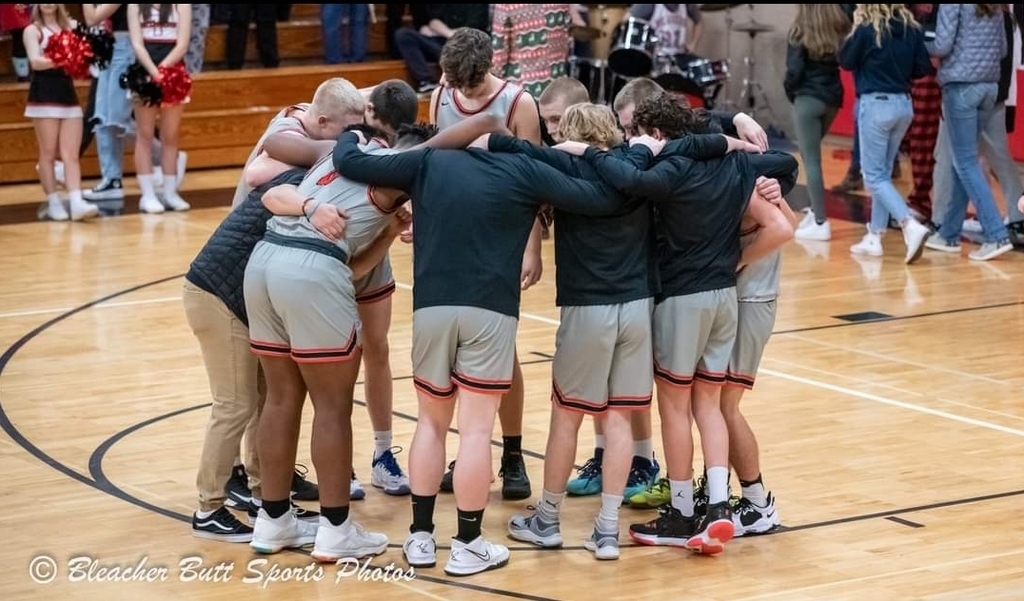 Congrats to the Boys Wrestling Team for their efforts at Subs. After a short season due to Covid, they still competed at a high level & advanced a few to Regionals this Sat. at Hoquiam HS: Randy Marti, Rowdie Tafoya, Larry Whitney, Trevin Snodderly & Alternates B.Schott, Z.Keech!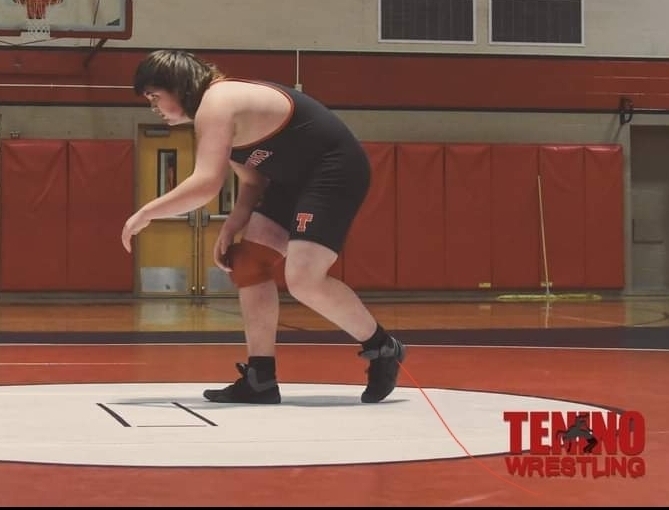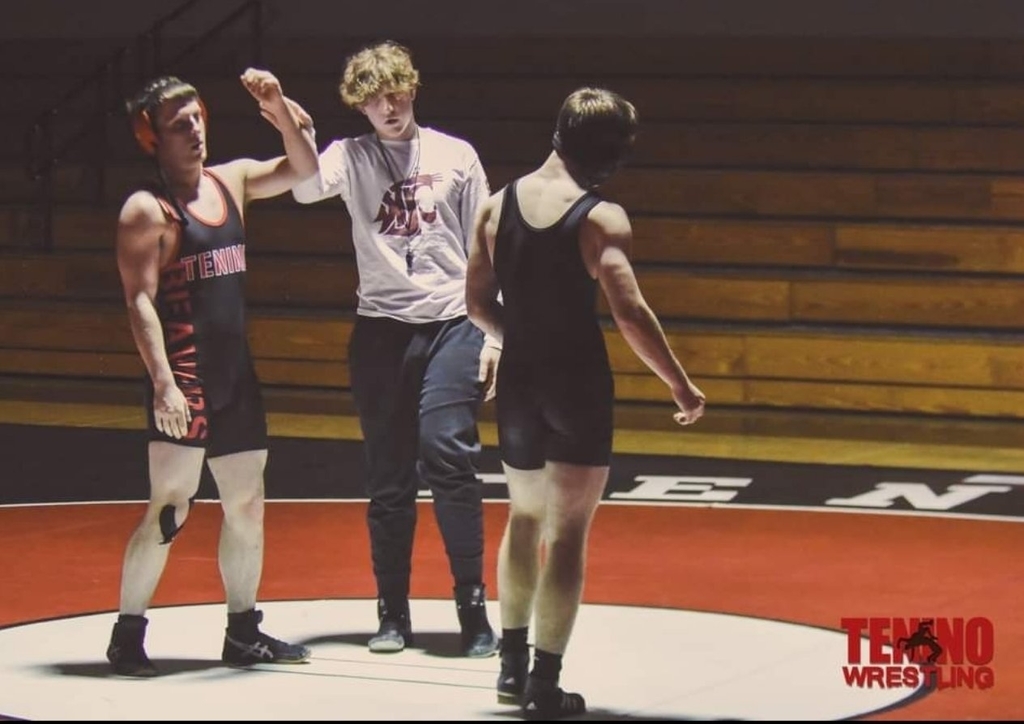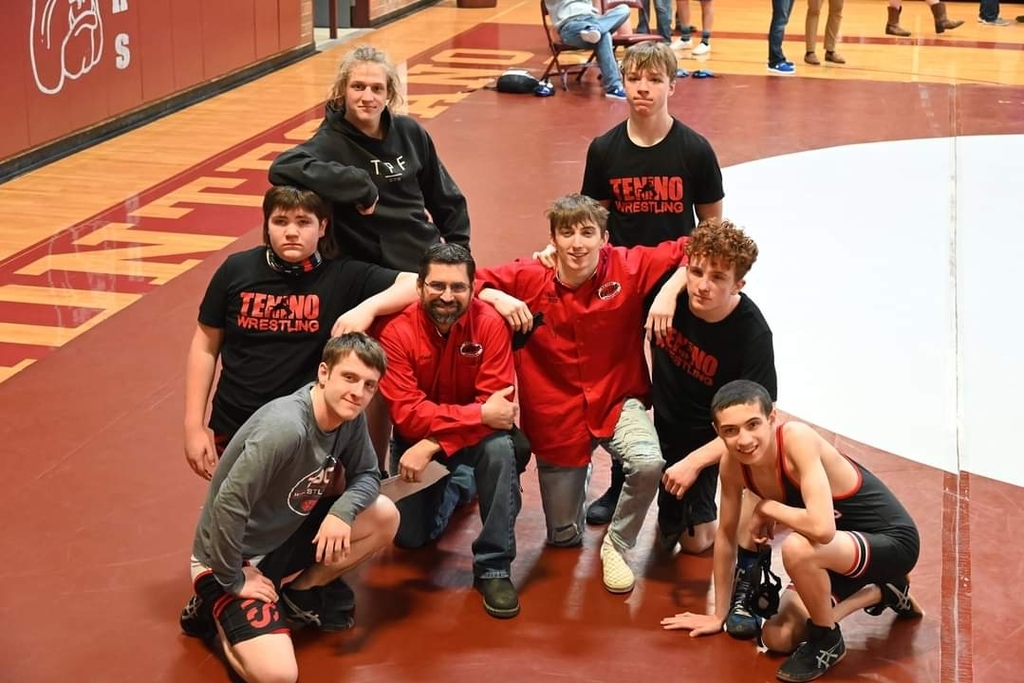 Congrats to the Girls Wrestling Team for their efforts at Subs! After a tough season due to Covid, we are proud of the following ladies that have advanced to Regionals at Aberdeen this Saturday: Trinity Tafoya, Morgan Miner, Dakota Lees, and Hope Burbridge (alternate). Go Beavs!!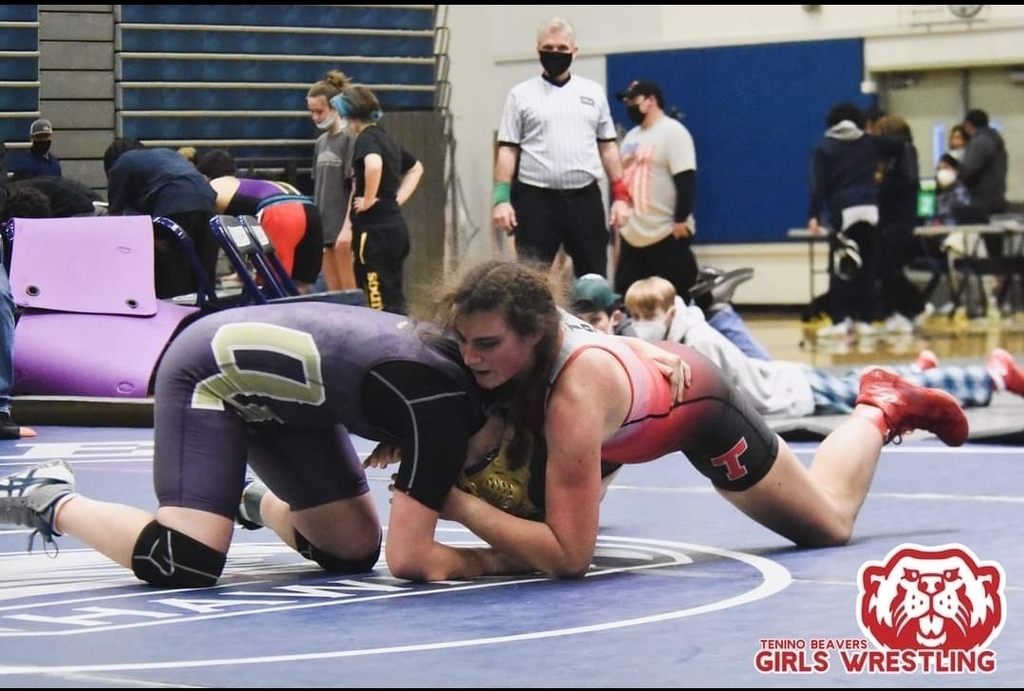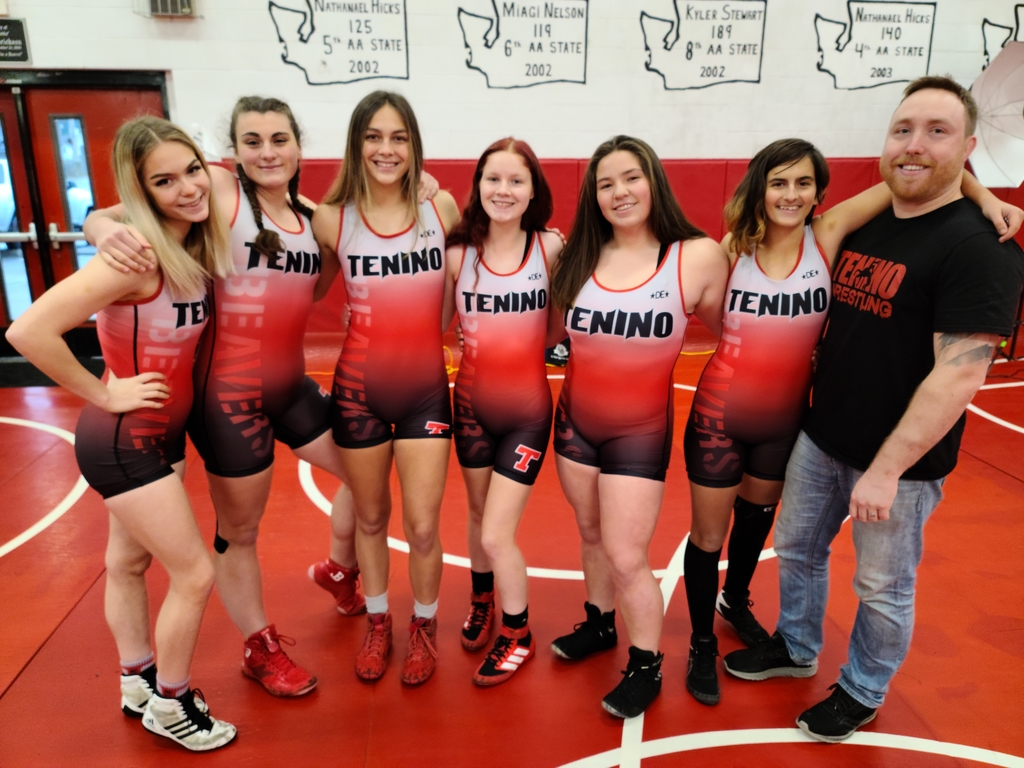 Baseball season is approaching quick!! Here are some local options for our school aged kiddos!

Don't Forget to VOTE by February 8th on the Capital Projects Replacement Levy!!!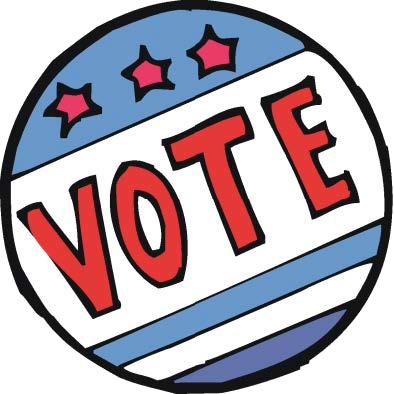 Please take the opportunity to have your voice heard regarding the potential for a state mandated COVID-19 Vaccine requirement for school attendance using the survey below. The district learned of this opportunity for feedback yesterday, and found out today that there is a February 2nd deadline. About the Survey The Washington State Board of Health is inviting parents and caregivers of school-age children to complete a survey to provide input that will be shared with a Technical Advisory Group the Board has convened to assess COVID-19 vaccine for inclusion in chapter 246-105 WAC. The TAG will utilize the 9-criteria framework established by the board to assess and evaluate the COVID-19 vaccine for consideration in chapter 246-105 WAC. The Board is seeking input from parents and caregivers as it relates to Criteria Nine: "The burden of compliance for the vaccine containing this antigen is reasonable for the parent/caregiver." To provide input, please complete the survey below:
https://forms.office.com/Pages/ResponsePage.aspx?id=F-LQEU4mCkCLoFfcwSfXLefTdB7APrJAvkZ64U-RFNVUQTlGRFVMOFM1MEVNVU1KTk9DN085REhZNy4u
We encourage all who can to complete the survey by February 2, 2022.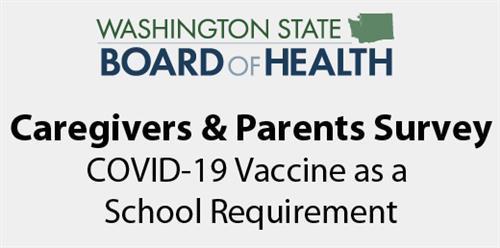 Early Dismissal today for the end of the semester! Please see dismissal times below! Have a great weekend!

Happy School Board Recognition month to our Student Board Reps Anthony and Grace!! Thank you both for your commitment to Tenino SD and the whole student body! You are appreciated by all!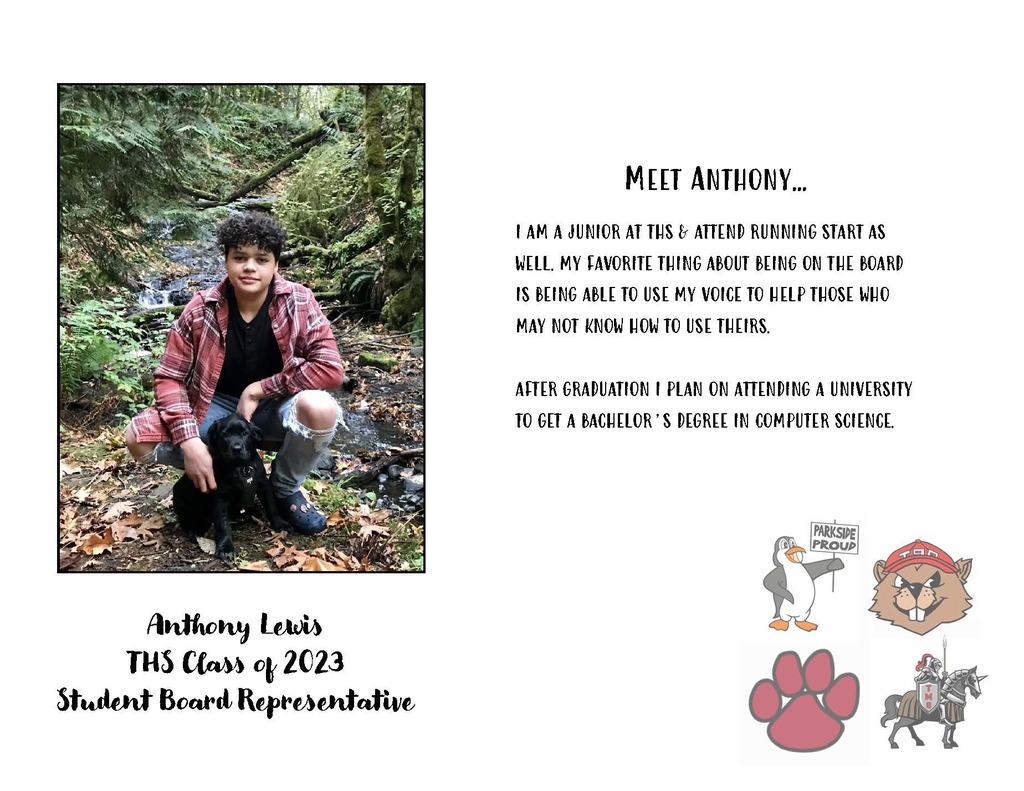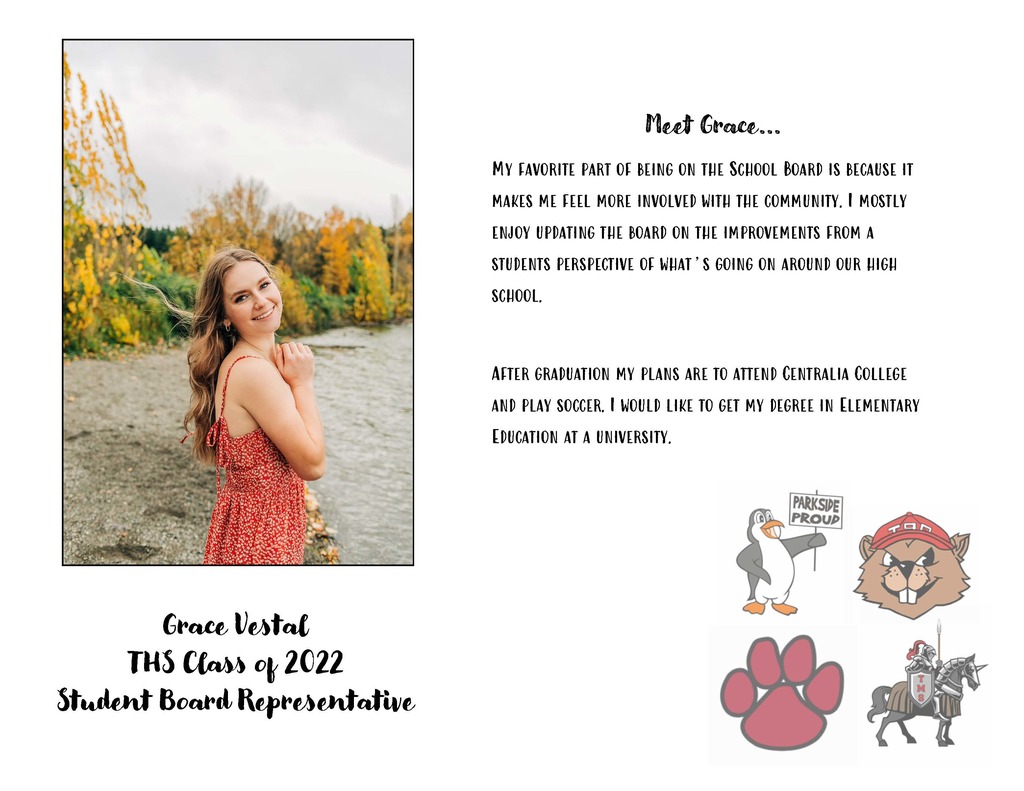 Last but not least....Ryan Hilton has been serving Tenino Schools since 2016! Happy School Board Recognition month Ryan and thank you!!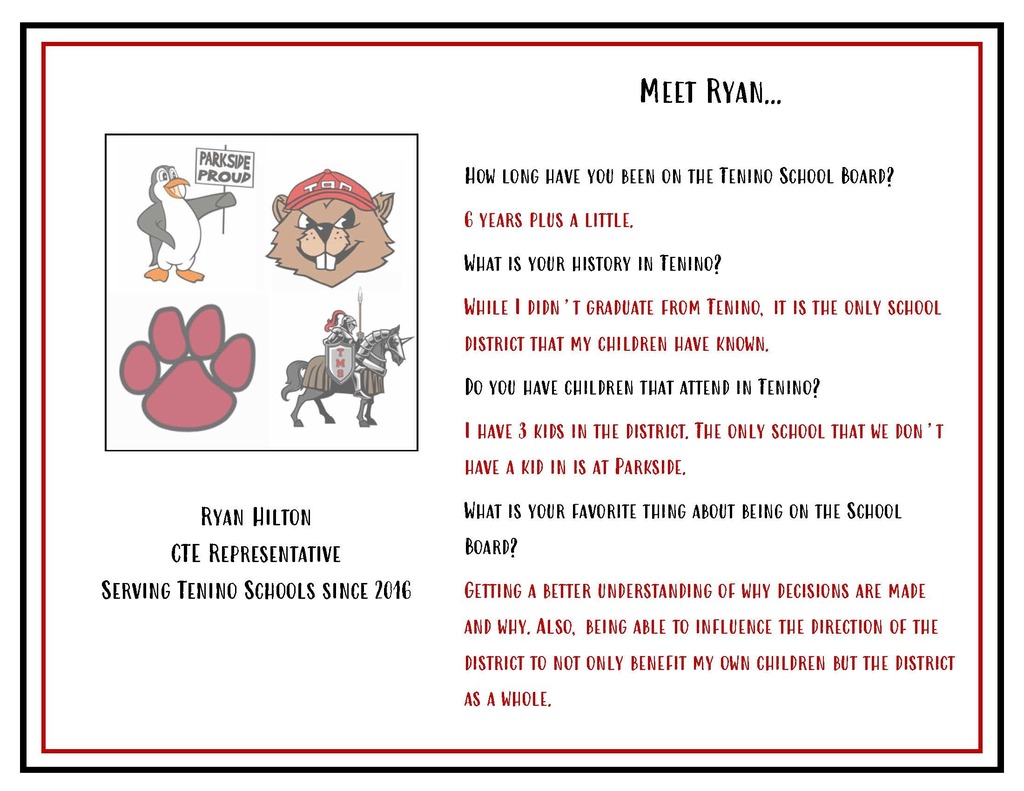 Happy School Board Recognition month to our newest School Board member, Jessica Reeves-Rush! We are so happy to have you!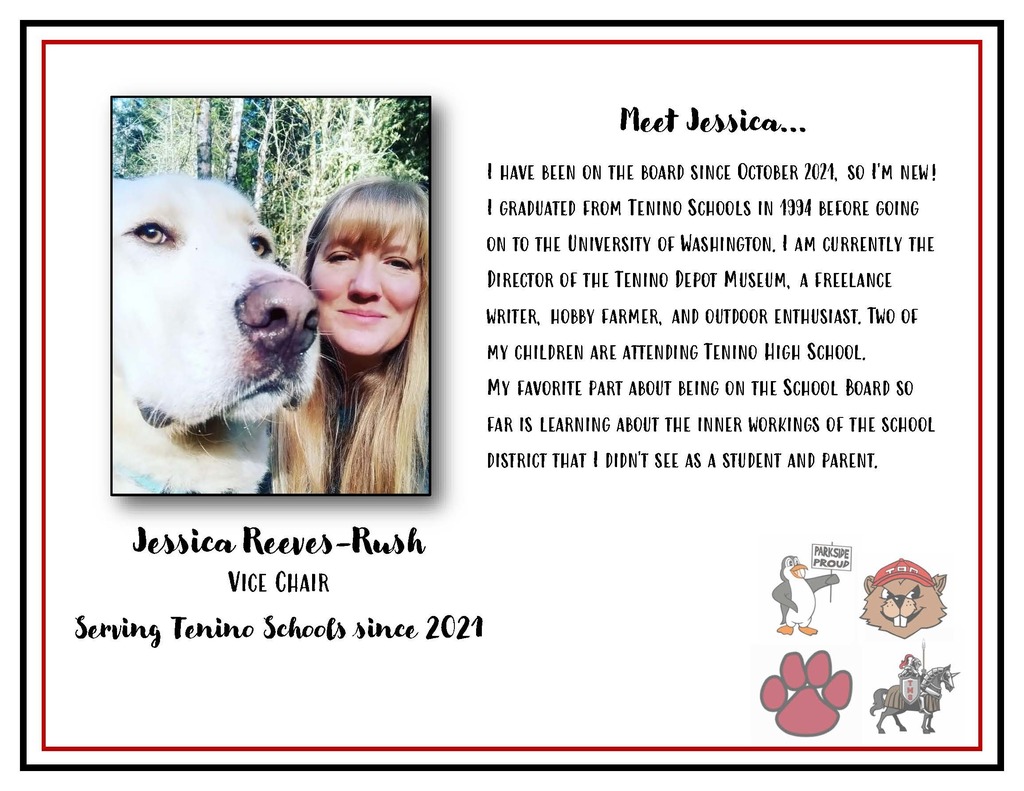 Help us in celebrating School Board Recognition month! Forrest has served Tenino Schools since 2018!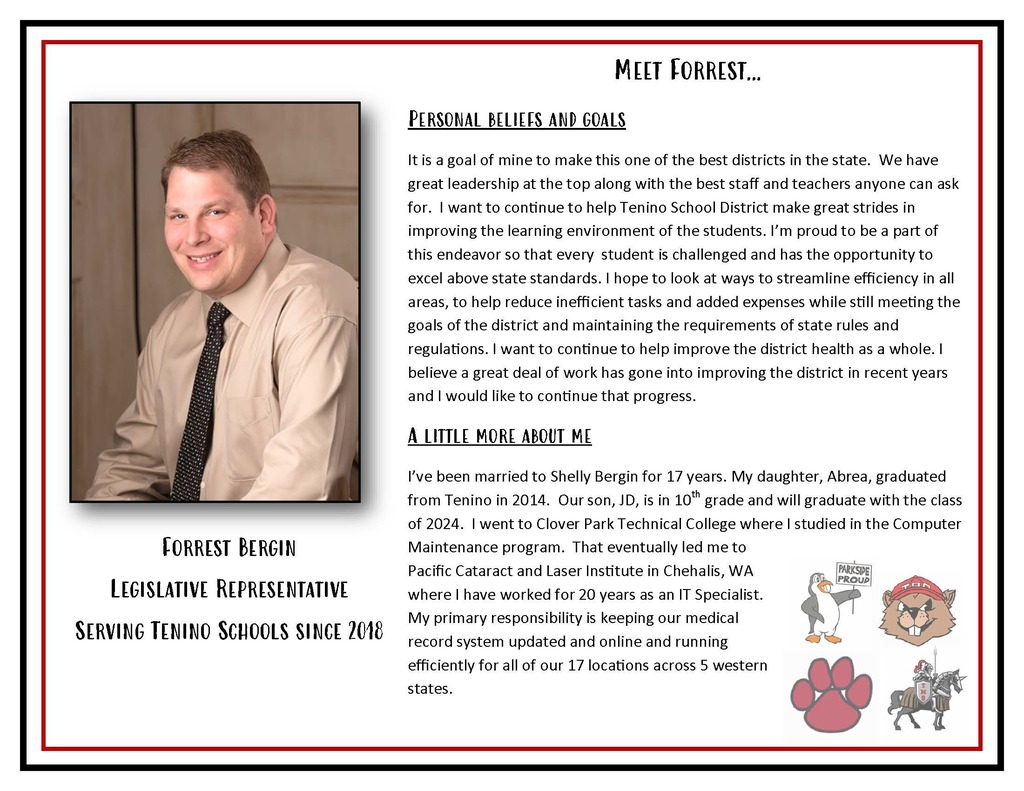 Help us celebrate School Board Recognition month! Kasey is our Board Chair and has served Tenino Schools since 2012, talk about dedication!!!