Thurston County Department of Health Tips for a Healthy, Happy Halloween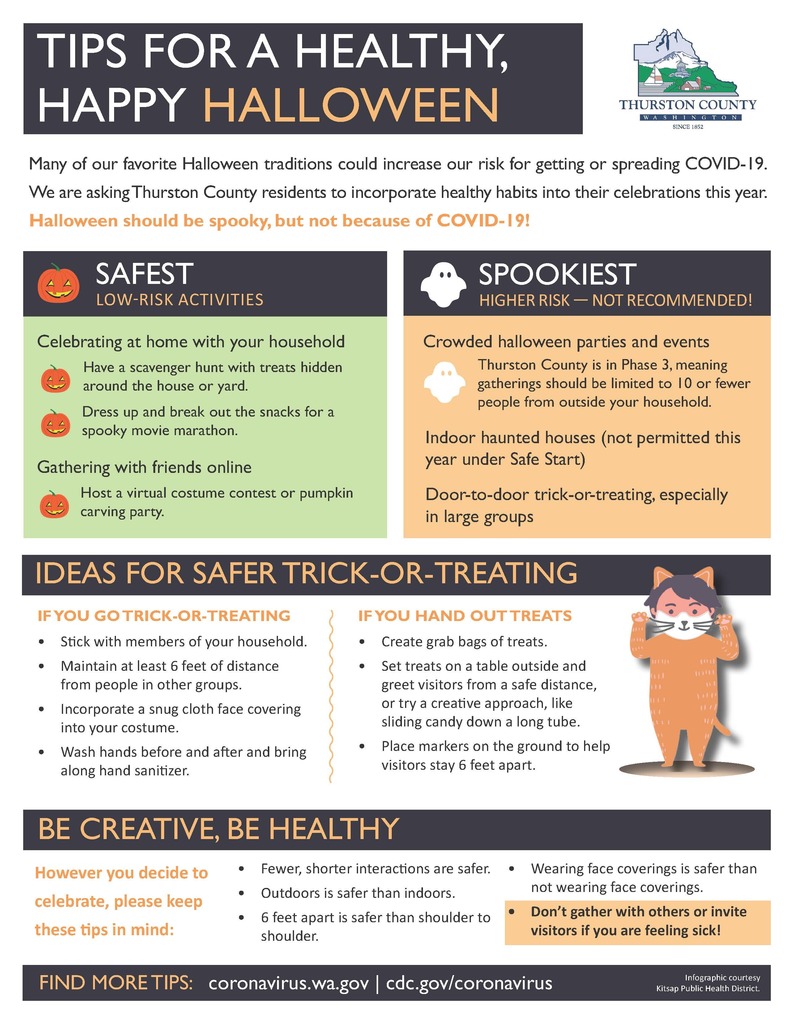 Good Morning Tenino Families. The Tenino School Board Meeting scheduled for Monday, October 26th at 6:30 pm will be done via webinar. Public comment must be submitted via email by 5 pm on October 26th to
leachc@tenino.k12.wa.us
. Please join the meeting by clicking the following link:
https://us02web.zoom.us/j/83500025063
. Thank you.

Drive through Trick or Treat @ Cornerstone Community Church on October 31, 2020 from 2:00 to 4:00 pm

Protect Your Community COVID-19 Testing, every other Monday 11am to 1pm at Tenino Quarry house.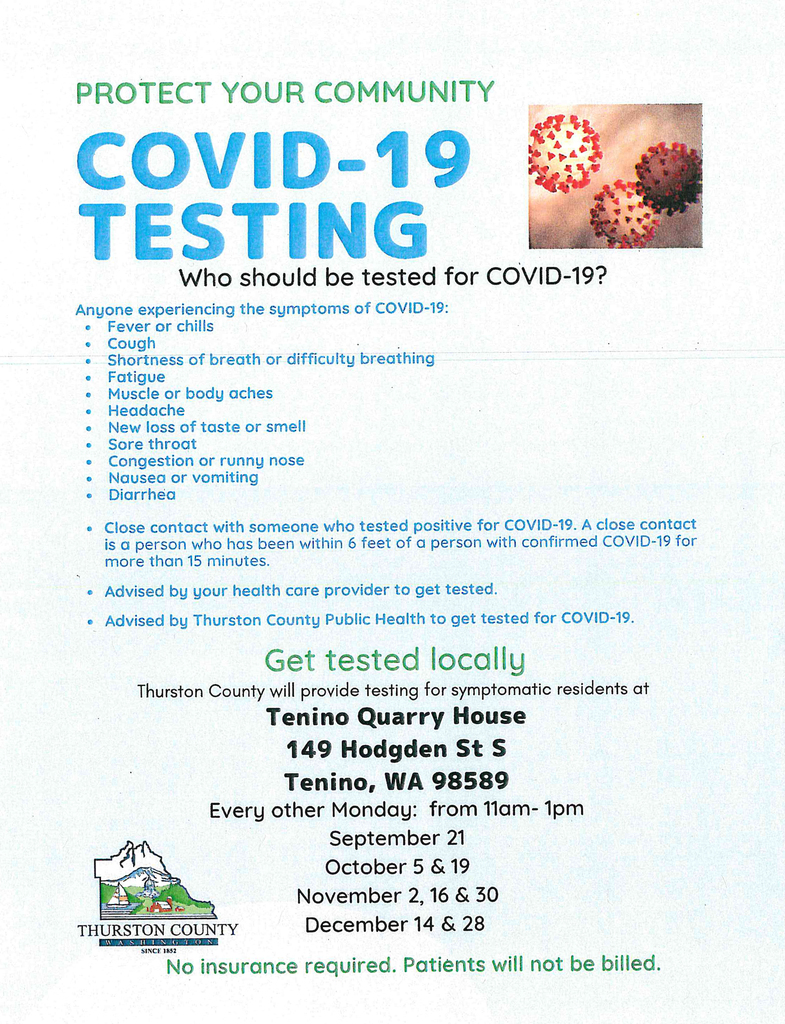 Choose Love this holiday season by Adopting a Child. Information on receiving assistance or sponsoring a child.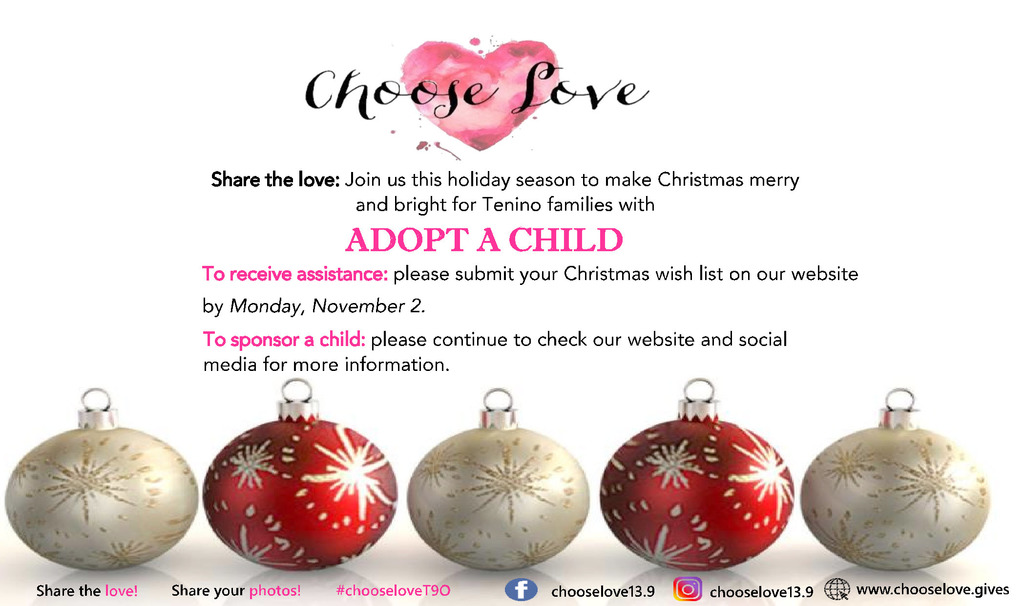 Dear Tenino Community: Good afternoon Tenino School District Community: As you know, we are beginning the Superintendent search process. At the School Board's direction, a district team will be working to implement this process, which includes opportunities for stakeholder input. Given the current restrictions for in-person events we are providing input opportunities via an anonymous survey. Input will be gathered on these specific questions: What are some of the strengths/unique qualities you see in the Tenino community? What are some of the strengths/unique qualities you see in the Tenino School District? What challenges/issues do you see ahead for the school district? What are the characteristics/professional skills you feel you are particularly desirable in a superintendent? We appreciate you taking the time to participate in this very important process and look forward to hearing from you. Just click on the link below to access the survey.
https://bit.ly/TSDSupSearch

Free Medicine Take Back on Saturday, October 24, 2020 from 11:00 am to 2:00 PM at the Tenino Police Department. Drive-thru only, face masks required.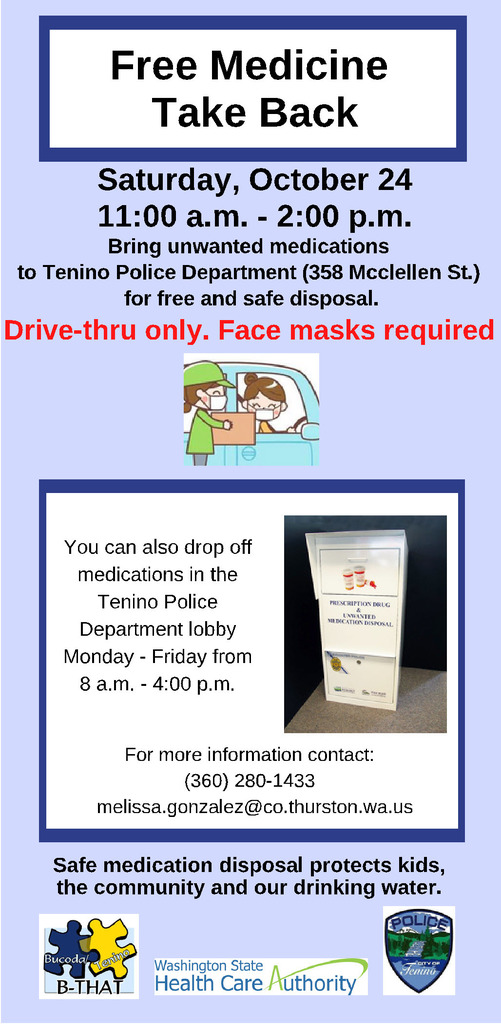 Important TSD Athletics Announcement!!!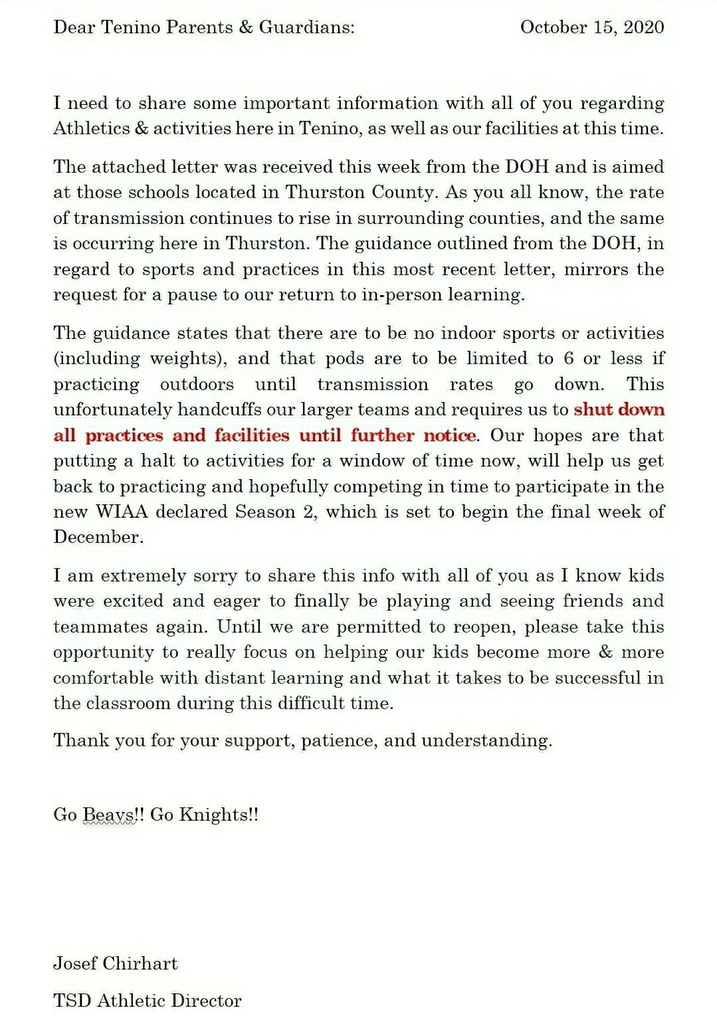 Re-Opening Update Letter
https://5il.co/m3kh
Dear Tenino Families: Thurston County Superintendents met early this morning with the Thurston County Public Health and Social Services Health Officer Dr. Abdelmalek. In the past few weeks, COVID transmissions have risen severely, reaching record high levels. As a result, we need to postpone our in-person hybrid instructional model at Parkside and Tenino Elementary. However, because we can safely provide educational services for small groups and special programs, we are permitted to continue to serve these students at all our schools. Bottom line, we will continue with the remote learning model we began on September 9th. This trend makes working toward the increase of in-person instruction very difficult. That said, we do not want to start the hybrid model, only to shut it down again quickly. We do not want to do that to our students, parents, and staff. Therefore, we are going to delay the start of hybrid instruction until the data and direction from public health shows we can do it safely. I am extremely sorry to share this message to you. I know we were excited to see students returning to school. We were surprised to see the COVID transmission rate change so drastically. The health of our students and staff is paramount, and we know case transmissions have to be low for the in-person hybrid model to succeed. Until we are permitted to reopen, we will continue to plan and prepare for hybrid instruction and be ready to transition to in-person learning when permitted. Thank you for your support and patience as we work together as a community to focus on returning our students to school. We recognize the disruption of the school year has had a significant impact on our students, our families, and our staff. Regards, Joe Belmonte


Greetings Tenino School District Community, As the Superintendent of the Tenino School District, I have had the privilege to work with a supportive school board, a wonderful community and a professional, student-centered staff who always have the best interest of students at the top of their agendas. My experience in this district has been exceptional. It is for those reasons and others, too many to list, that I have difficulty writing this letter. After a great deal of deliberation, I have decided to close out my 39-year career in education and retire at the end of this school year. I have spoken to the school board about my decision to retire effective June 30, 2021.  It is my hope and belief that the timing of this announcement will allow the district enough time to recruit and select the best possible candidate to lead the district into the future. It has certainly been an amazing ride throughout these past seven years. The Tenino community is amazing, and I am continually impressed by how close knit and supportive people are of one another.  I believe during the past seven years the school district has grown and we have achieved much and become one of the outstanding school districts in Thurston County. Tenino may be small, but we are mighty! I would like to thank the school board who took a chance when hiring me and I will always be grateful for this amazing opportunity. I do not exaggerate when I tell you that my seven years in Tenino has been the joy of my career in education.  I am honored to have had the opportunity to lead this district and grateful to be able to close out my career in Tenino.  In some small way I hope that I have had a positive impact on our children. Warm regards, Joe Belmonte

National Voter Registration Day is Sept 22! Register online at VoteWA.gov!

Good Morning Tenino Families. The Tenino School Board Meeting scheduled for Monday, September 28th at 6:30 pm will be done via webinar. Public comment must be submitted via email by 5 pm on September 28th to
leachc@tenino.k12.wa.us
. Please join the meeting by clicking the following link:
https://us02web.zoom.us/j/87808812127
. Thank you.

Tenino School District PTSA Back to School Ice Cream Social Drive-Thru Style. Friday, September 18, 2020 from 5:00 - 6:00 pm in the TES/TMS Parking Lot.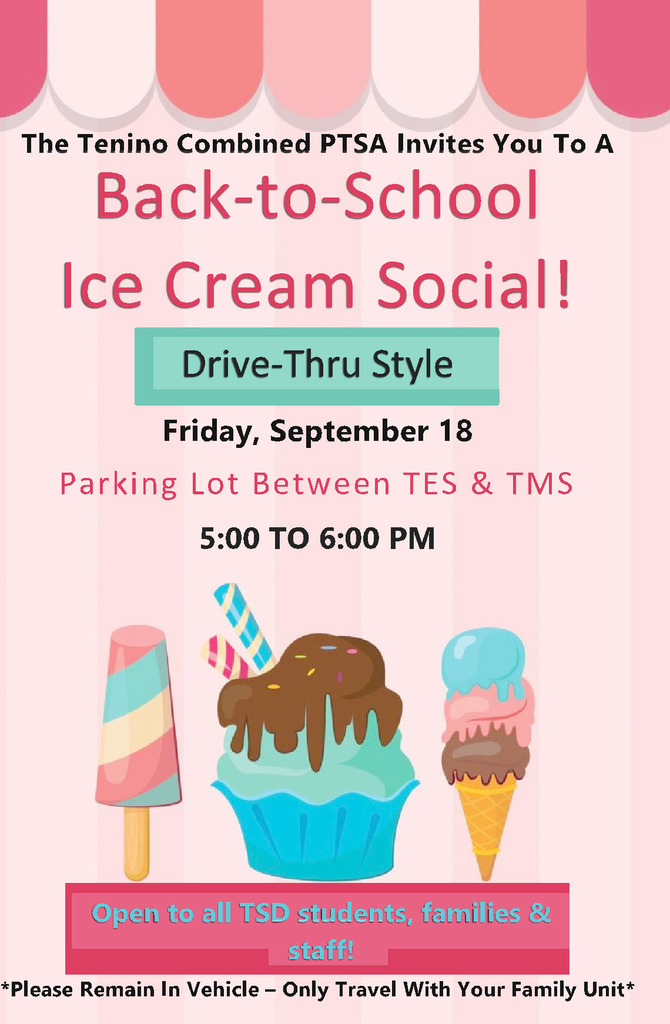 Thurston County Public Health has one more FREE Immunization Clinic this year (the phone number to call and schedule an appointment is on the attached flyers): Seamar Yelm Medical Clinic 5-8 pm on Sept 10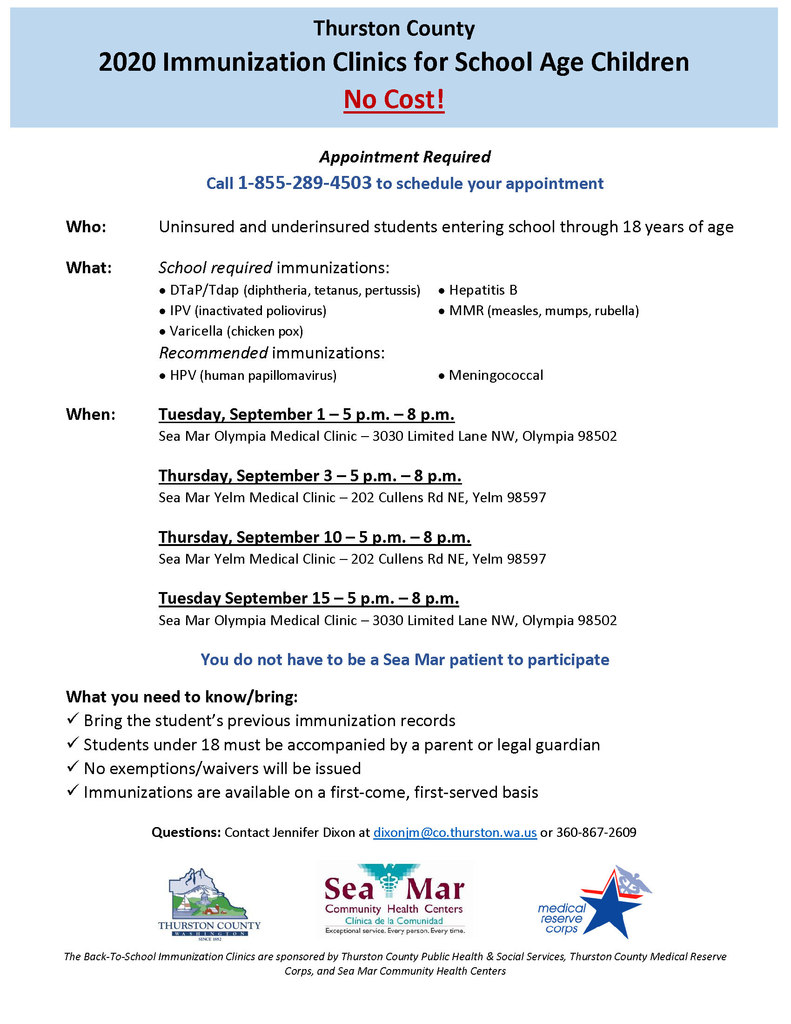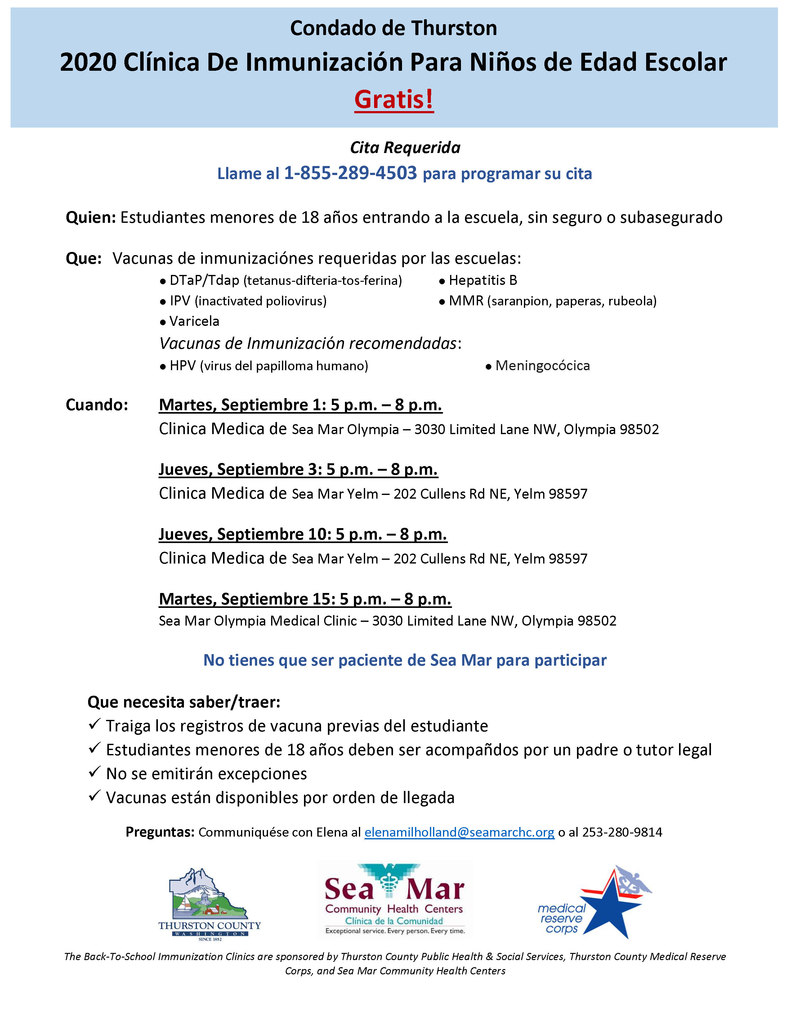 Tenino School District is happy to announce that free grab 'n go meals are available September 9th through December 31st.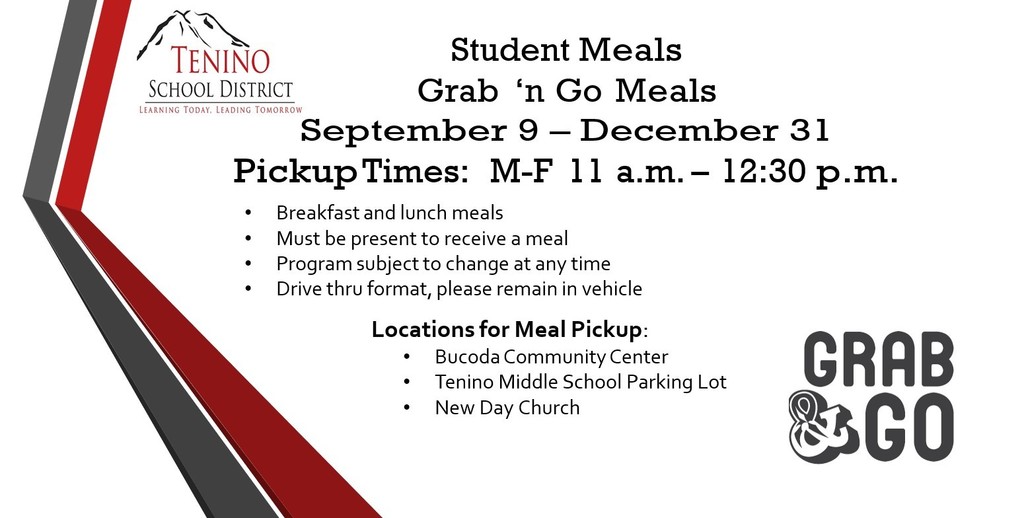 Dear Tenino Families, As we kick off the 2020-2021 school year the District would like you to know the safety protocols when entering the buildings and District Office.
https://5il.co/kq54

Thurston County Pub Health has two FREE Immunization Clinics this year, the phone number to call for an appointment is on the attached flyer: Seamar Olympia Medical Clinic, 5-8 pm on Sept 15 Searmar & Yelm Medical Clinic 5-8 pm on Sept 10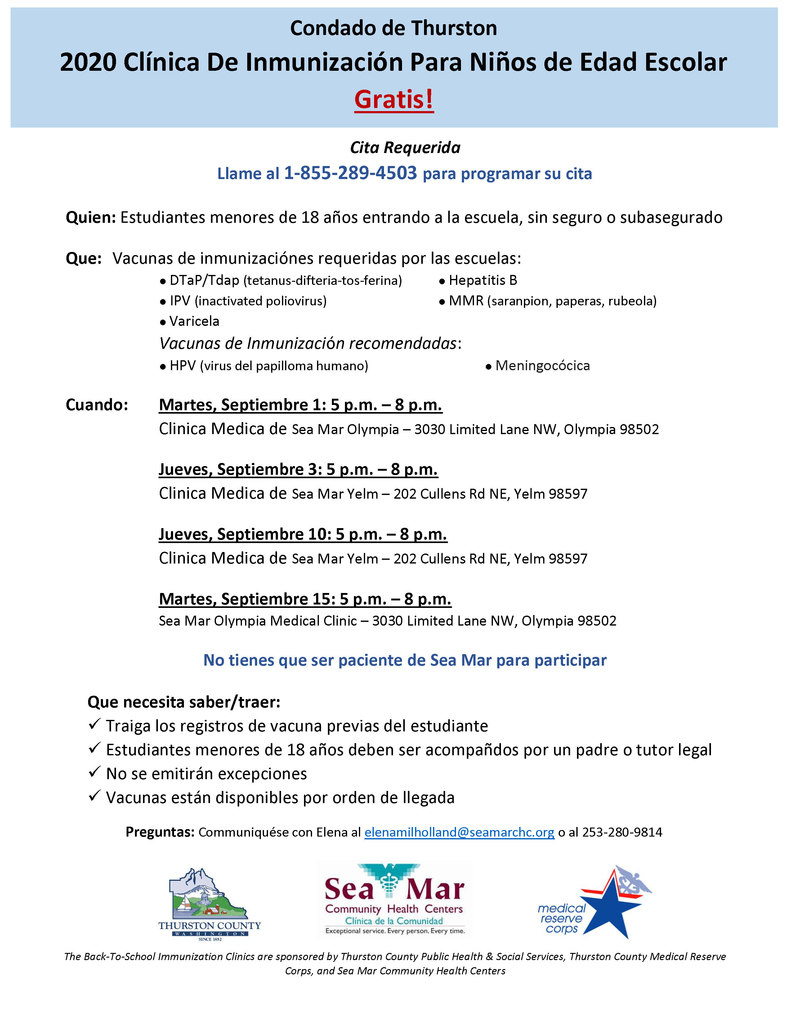 What will Tenino Online Learning Look Like When School Starts September 9th? Click the link to access the answers to a wide-ranging list of questions. You will find the plans for each school, a Frequently Asked Questions document, and a recording of a Q & A webinar that was held on August 24, 2020. If you have specific questions, please contact the schools directly. Here is the link: bit.ly/T9OOnlineFAQ